An essential condiment throughout Asia, fish sauces are produced from the fermentation of salted
fish. For the ultimate in local Niigata taste, try our own unique Niigata variety—a perfect
complement to our exquisite sushi.

The manufacturing process was developed in 2008 by the joint effort of two local research groups: the Niigata Prefectural Fisheries and Marine Research Institute and the Niigata Food Research Center. A third group—the Niigata Fishery Cooperative Society—ran numerous trials to determine which fish varieties tasted best.

A fermentation mold—the same one used for making soy sauce—is added to the salted fish. The temperature is carefully controlled to promote fermentation, and the product is ready after about one week. This is much faster than the fermentation periods for most fish sauces, which typically range from six months to two years.

Because fermentation is quick, the sauce is free of the pungent odor of typical fish condiments. But while light and refreshing, it also carries deep and concentrated fish flavors. It offers a truly memorable taste experience—available only in the sushi shops of Niigata.

■

Blackthroat Sea Perch 

■

Akiami Shrimp

■

Nanban Shrimp

■

Squid

■

Gurnard

■

Yellowtail

■

Willowy Flounder

■

Sandfish 

■

Salmon

■

Flounder

■

Fivespot Flounder

■

Spanish Mackerel

■

Rockfish

■

Monkfish

■

Sea Bream

This sauce, from the nanban shrimp, goes remarkably well with nanban-shrimp sushi itself. This is a fairly strong sauce: about 1.5 kg (3.3 lb) of shrimp is required to produce 1 liter (1 quart) of sauce.
Its fragrance and luscious taste develops wonderfully within the mouth.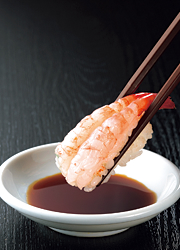 The elegant yet easygoing flavor goes well with all types of fish. In particular, the sauce greatly enhances the flavors of the area's wide variety of white fish.